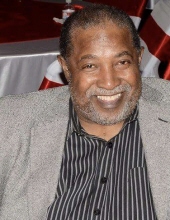 Obituary for Verles Westbrook, Sr.
Verles Lee Westbrook, Sr. was born on Saturday February 23, 1952 to Jesse and Minnie Haymon-Westbrook in Ellendale, TN. They both preceded him in death.

He accepted Christ at an early age and was a member of Fullview Missionary Baptist Church. Upon receiving his diploma from Barrett's Chapel High School in 1970, he attended Tennessee State University and earned an Electrical Engineering Degree in 1975. In his younger years, Verles earned his barber's license and his parents made their kitchen his barber's workspace. Each Saturday morning he would awake to a line of men waiting on him to get a haircut. Verles decided to join the brotherhood of Free Masonry. His latter years, he was employed at the Kroger Company, as a Maintenance Manager.

He was joined in holy matrimony to Debra Hatcher Westbrook on April 4, 1985 and from this union two children were born.

Verles was called home to eternity on Wednesday January 18, 2017 at his home in Bartlett, TN. He leaves to cherish his memories his wife of 31 years, Debra Westbrook; two daughters: Verlisa Westbrook and Larkishia Waller(Rico); two sons: Verles Westbrook, Jr. and James Anthony Davis, III; seven grandchildren; five great-grandchildren; two brothers: Jesse Westbrook(Dorothy) and Jeffrey Robinson(Brenda), nine sisters: Elmira Gordon, Vernita Branch(John), JoAndru Smith, Catherine Westbrook(Joe), Etta Davenport, Wanda Robinson. Earnestine Smith, Ruby Jean Branch, and Georgia Robertson preceded him in death. He also leaves a host of nieces, nephews, cousins, and friends to remember his lifetime of love, laughter and kindness.


Previous Events
Service
Serenity Funeral Home
1638 Sycamore View Road
Memphis, TN 38134