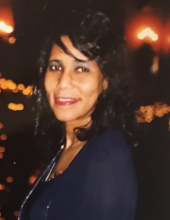 Obituary for Valeria Miller
Valeria Miller, 69, died July 18, 2018.

Valeria "Kay" (Powell) Miller was born January 14, 1949, in Memphis, Tennessee to Esther Mapp and the late Stevenson T. Powell. She transitioned from this life on July 18, 2018 at Methodist University Hospital.
At an early age, Kay confessed her faith in Christ. She joined Hope Church, where she remained a faithful member. She shared her faith with those she knew. Her strong belief and faith in Christ gave her the strength to battle the illness that claimed her life. Kay's Christian dedication afforded her the ability to spiritual support one of her best friend's endeavors of Emmanuel Home Baptist Church.
Kay was a graduating member of the Class of 1967 at Douglass High School, Memphis, Tennessee, where she was crowned Miss Douglass. She was a graduate of London House Modeling School. She received an offer to model for Fashion Fair that she did not accept because she decided motherhood was more rewarding. She attended the University of Memphis and obtained her undergraduate degree in Bachelor of Professional Studies in 2001. In 2010, she obtained her license as a Certified Nursing Assistant.
In 1967, Kay was united in holy matrimony to the late Waverly Hobson. To this union, Kimberly Shawn (Hobson) Brooks was born.
On December 26, 1993, Kay was joined in holy matrimony to Charlie H. Miller, Sr., her "prince charming". She affectionately loved her husband throughout the entire 25 years of their marriage.
Kay entered the work force at General Electric and later accepted a position with Cummings. She remained employed at Cummings for 30 years until her retirement in 2010. After her retirement, she worked as a Certified Nursing Assistant with First Choice. During her tenure with First Choice, she developed a special relationship with Ernestine Owens and her family. She cared for Ms. Owens until her own health started to fail.
Whatever path Kay traveled, friends were made with ease. People of all walks of life, no matter who they were; family, friends or strangers were drawn to her contagious smile, humor and laughter. Her life made a difference in all those she touched.
She was preceded in death by her father, Stevenson T. Powell and her sister, Rita Rose (Powell) Frison (David).
She leaves to treasure her memory; her husband: Charlie H. Miller, Sr., her mother: Esther Mapp, 2 daughters: Kimberly S. Brooks (Robert) and Cheryl Miller-Stewart (Strang); 3 sons: Charlie Hill, Charlie Miller, Jr. and John Miller; 1 Sister: Ernestine "Ludy" Scruggs (Carl); 2 brothers: Willie Clyde Powell, Sr. (Barbara) and Descoe Tribert; 16 grandchildren, 19 great grandchildren, 1 great-great grandchildren, 5 brothers-in-law, 2 sisters-in-law and a host of aunts, uncles, nieces, nephews, cousins and faithful friends.

Serenity Funeral Home, Tel. (901)379-0861.