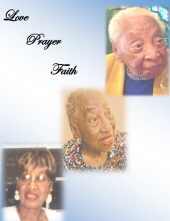 Obituary for Ruthie Mae Worthy
A TRIBUTE TO
MRS. RUTHIE MAE WORTHY
A WOMAN OF LOVE PRAYER AND FAITH
God used his faithful servant, Mrs. Ruthie Mae Worthy to reveal the unconditional love of his son Jesus Christ! She became his brilliant light for the world to see!
She demonstrated love towards others through her loving giving heart by sacrificing her needs for the needs of others.
A faithful servant whose beautiful life is representative of God's Word in the flesh: 1 John 3:18 "Dear children, let us not love with words or speech but with actions and in truth."
Mrs. Ruthie Mae Worthy is also known by: Mrs. Worthy, Mrs. Ruthie, Mrs. Ruthie Mae, Worthy, Mother, and Madear. The doors of her home never closed. It became home for the homeless, the broken, widows-their children, relatives, single mothers, friends; and yes...even strangers. The sick received more than a hospital visit. She sat at their bedside throughout the night and went directly to her job the following morning. She borrowed money and bought washers, stoves, and refrigerators for single mothers with children, but never asked or expected to be repaid.
Regional One Health Medical Center, AKA Elvis Presley Trauma Center, formally The Med. The Med became Mrs. Worthy's home away from home. "I love my job" is an understatement! Employed, 35 years with excellent attendance! Loved, and appreciated among coworkers! Her beauty, elegance, style, and grace captivated the hospital's staff! Daily, prior to her arrival they gathered at windows and doors anxiously to admire what she was wearing! To coworkers she became a mother figure, sister, and beloved friend! Provided wise counsel, and correction! Among doctors, nurses, and hospital staff, she was loved respected valued, and irreplaceable! Her daily homecooked lunches were enough to feed several! Don't even mention her melt-in-your-mouth "sweet potato pies!" Her family is extremely grateful to Dr. Reginald Coopwood, MD, President and CEO. He demonstrated his love, appreciation, and compassion upon her retirement and beyond.
Mrs. Worthy, spoke these prophetic words over her life many years ago: "My life began at the Med! And my desire is that it will end at the Med."
God is faithful! To him be the glory!
There is no greater Mother, Grandmother, Great-grand mother, than Mrs. Worthy! Her unconditional love and endless sacrifices for her entire family are beyond human comprehension. She spent every day of her life pouring into her family members, in so many ways. Covering them with prayers was her number one priority. She found no fault in any one regardless of their decisions and offenses. She forgave and walked in love. Getting to work required taking two buses. God graced her with the stamina to endure the extreme elements of rain, sleet, snow, winds, and heat; but she never complained. God gave her favor with the bus drivers, to never pull away from her stop; if she should be not there in the event something had happened.
Mrs. Worthy's six children were born in Capleville TN, a small country town located a few miles outside of Memphis TN. About a half-mile walk from the main dirt road led to her two-bedroom house. Three girls snuggled in one drafty room, and three boys in the other…the living room couch became her bed at night fall. But Paul and Silas didn't have nothing on her! Why? Because at "midnight" every night she walked those squeaky plank floors; praying to God out loud: "Lord please take care of my children!" While at the same time her children were saying: "Lord please make her shut up and go to sleep!" But little did they know…that her prayers would bless and protect them all the days of their lives.
She took a leap of faith and relocated her children to Memphis TN, to provide them with a better life. Mrs. Worthy became the first member of her family to leave the "country life for the city life!" She left behind her mother, only sister, and several family members. Her faith was in God! She stood on Proverbs 3:5-6 5 Trust in the LORD with all thine heart; and lean not unto thine own understanding.6 In all thy ways acknowledge him, and he shall direct thy paths. After relocating, and the need for a home she proudly strolled into Evenesky's Dry Goods Store/Mortgage Company. Dressed to the hilt introduced herself: "Mr. Evenesky my name is Mrs. Ruthie Worthy, and I am here to finance a home for me and my children! I don't have a down payment, and no credit! All I have is my word and faith in God! Well…Her word was enough! He financed the home! A testimony of her faith and the power of prayer! Over 70 years ago Mrs. Worthy's bold words became a famous slogan "No-Money-Down No-Credit-Needed!"
Mrs. Worthy's new home was in the Magnolia neighborhood. God blessed her family with shelter, and his sheep with a place of refuge. The house wasn't made of brick, stained glass windows, nor did it have a steeple. It was built on the "love" of God! Mrs. Worthy's first job paid $20.00 a week working in a "private-home;" cleaning cooking and caring for two children. Times got hard…a mortgage payment, utilities, food, clothing-shoes. Utilities were turned off more than on. Children wore hand-me-downs and one size must fit all! Welfare assistance available? Yes. But not for Mrs. Worthy's family! Instead, her trust remained in God! She believed that because if he blessed her family with a new home; surly she would not allow her to lose it. Being acquainted with hills valleys, and struggles of life she understood that her faith would continue being tested and tried. Her faith never wavered! Mrs. Worthy understood her life was a testimony for her children, and the world! Evidence that God is a miracle worker! The desire to instill into her children; her work ethics, prayer life, and faith God, were dear to her heart. Therefore, the Welfare program was not in her DNA! But the word "faith" had no meaning in the minds of her children. Instead, the tough times back in Capleville; remained on their young minds. Their immediate dilemma was…Which one of them were brave enough to say? "Madear will you take the Welfare please? So we can get the peanut butter, red jelly and the cheese!" But not one of them dared to say it! Mrs. Worthy never accepted Welfare! Shortly afterwards God blessed her with a better job with Trojan Luggage Company, it was his plan for her life!
Her children grew up. God continually poured out his abundant blessings upon their lives. Her steadfast prayers never ceased. The magnitude of her children's love for their mother resonates profoundly throughout each and every day. Whereas she realized that her children would also endure hills, valleys, tests, and trials during their lifetime. The peace of God was upon her all the days of her life. A life well lived! A faithful servant who life is a testimony of God's Word according to: Jeremiah 29:11-12 11" For I know the plans I have for you," declares the LORD, "plans to prosper you and not to harm you, plans to give you hope and a future. 12 Then you will call on me and come and pray to me, and I will listen to you.
Mrs. Worthy moreover spoke prophetically to her children many years ago: "I'm going to live to be 100 years old!" God rewarded his faithful servant according to the power of his Word…Ephesians 3:20-21" 20 Now to Him who is able to do exceedingly abundantly above all that we ask or think, according to the power that works in us, 21 to Him be glory in the church by Christ Jesus to all generations, forever and ever. Amen
Serenity Funeral Home and Cremation Society, Tel. (901) 377-3543.
Read More