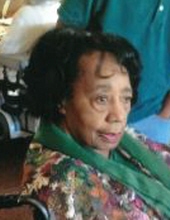 Obituary for Racheal Clark
Racheal Clark, 80, died March 18, 2019.

Mrs. Racheal Smith Clark, was born August 1, 1938 to her parents, Caldwell and Aline Smith Sanders in Raleigh TN. She accepted Jesus Christ as Savior and Lord at the age of 7 at New Salem Baptist Church.

She was married to Benny Clark on August 16, 1938 in Chicago, IL. She has five children Bennie Raye Smith, Onecia Tanksley, Calvin Clark (deceased), Hattie Michelle McKinney, and Christopher Michael Clark and seven grandchildren.

She was a woman of God with many gifts. She was a missionary. She was a servant of the Lord who's conversation was centered on Jesus. She was obedient and did what the Lord said in Matthew 25:35-40. She graduated from Woodstock Training School which the last 3 months of school she took care of her mother before she passed .She was a business woman who did the paper work for her father's contracts as a builder in Memphis TN, and he taught her to lay sheet rock. At the age of fifteen a street was named after her Racheal and her mother Aline and the Realtor Smith Ridge off of Hawkins Mill Road in Frayser, TN. She was a Special Agent in the United States Air Force and Specialist in Rules and Regulations. She was someone who always won in the court room. She was a care giver to her husband for 30 years and also to her son Christopher for 15 years. She was an outstanding cook and loved her family. She was the President of the AFCIO, Post Office in Chicago, IL. She was an Advocate for Arlington Development Center for the Mentally Challenged and Advocate for People's First for the Mentally Challenged. She was on the Board of the National Republican Convention. She was the President of Leisure Travelers and Tours. She was some one who journeyed through life that left her footprints of kindness and love, courage and compassion, humor and inspiration, joy and faith.

She leaves to mourn her passing four sisters, Josephine Smith Hicks, of Atoka, TN; Magnolia Smith Muhamad of Pasco, Washington; Lonnie Marie Smith Morrow of St. Louis, MO, and Evelyn Smith Settles of Covington, TN out of 16 siblings which the rest of siblings had already preceded in death.

Acknowledgements
The thoughtful courtesies extended to us during the illness and transition of our loved one have served as a source of strength and comfort. We sincerely appreciate all of your thoughts, prayers, emails, your presence, and special acts of kindness.


Serenity Funeral Home, Tel. (901)379-0861.


Previous Events
Visitation
Bellevue Baptist Church
2000 Appling Road
Cordova, TN
Service
Bellevue Baptist Church
2000 Appling Road
Cordova, TN
Repast
Bellevue Baptist Church
2000 Appling Road
Cordova, TN
Committal Service
West Tennessee State Veterans Cemetery
4000 Forest Hill Irene Road
Memphis, TN 38125
Cemetery Details
Location
West Tennessee State Veterans Cemetery
4000 Forest Hill Irene Road
Memphis, TN 38125