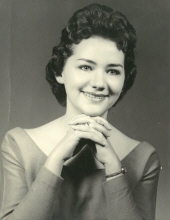 Obituary for Patricia Spence
Patricia Ann Hicks Spence, R.N., 77, of Memphis died July 10 at Methodist Hospital. She was born February 10, 1941 in Obion County, TN. The longtime Democratic Party activist leaves her only child, Tricia Spence (Shawn Herrington), and two grandchildren, Amelia and Spence Herrington, her older brother, Dr. Bill Hicks (Ann), nieces Barbara Williams and Brenda Barnett, and nephews Terry Hicks and Dale Hicks, Jr.

Pat ("Trish" to her family) was preceded in death by her mother, Amy Lee Askew Hicks, whom she adored and cared for during her short battle with cancer and whom she credits with making sure she became a nurse, her father, J.E. Hicks, an older sister, Lucille Gray, and older brother, Dale Hicks, Sr.

She graduated from Dixie High School in 1959 and St. Joseph School of Nursing in 1962. She was a dedicated registered nurse for 56 years, and found purpose helping those with alcohol/drug addiction and psychiatric nursing. She was also the first female city alderperson in Kenton, TN, in the early 1970s; an organizer for the Equal Rights Amendment in northwest TN in 1979; held leadership positions in the Obion County Democratic Party and, after moving to Memphis in 1989, she served on the Shelby County Democratic Executive Committee, Shelby County Democratic Women and the Shelby County Democratic Primary Board. Pat loved Democratic politics with a passion. She was a volunteer with the YWCA of Greater Memphis Abused Women's Services Committee, Grace House volunteer where she worked with women with alcohol/drug addictions, was a member of the Memphis and TN Women's Political Caucus, the League of Women Voters, a current board member at CHOICES, and longtime member of the TN Nurses Association.

Pat was a loving mother to her only child and an adoring grandmother. She was beautiful, outgoing, smart as a whip and never met a stranger. In her youth, she held many beauty pageant titles, but it was her lifelong commitment to fighting for the underserved in society that fueled her spirit. Her compassion and caring led her into nursing. Her profession was her life's purpose; she knew from the age of six that she wanted to be a nurse. She worked in various roles throughout her career, still working full-time up to her death. Pat worked her entire life fighting for the sick, the underprivileged and unserved, and for gender equality. She also loved animals and cared for many throughout her life.

Funeral arrangements are set for Saturday, July 21, at 2 pm, at Serenity Funeral Home, 1632 Sycamore View Rd. The family requests memorials in her name be sent to CHOICES-Memphis Center for Reproductive Health, Memphis Humane Society or St. Jude Children's Research Hospital.

Serenity Funeral Home (901)379-0861.


Previous Events
Memorial
Serenity Funeral Home
1638 Sycamore View Road
Memphis, TN 38134