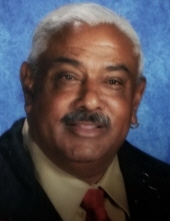 Obituary for Omari (aka Jose Rankin Jr.) Abayomi
Omari (aka Jose Rankin Jr.) Abayomi, 71, died September 10, 2018. US Army Veteran. Retired Memphis City Schools Teacher.

OMARI BARATUNDE ABAYOMI
Born- Jose Rankin, Jr.
Omari – Swahili – God the Highest: Baratunde – Yoruba – one who is chosen; Abayomi – Yoruba – he who came to bring joy and happiness. He was a force of nature whose love of life and love was always a BLAST!
Omari was born in the Republic of Panama on January 28, 1947 to Jose Rankin, Sr. and Clementina Pomares. He married Yolanda Valencia and to this union Yovana and Jose lll were born. He came to the United States and joined the U S Army. At the completion of his service he returned to New York City and began a career in acting at the New Federal Theatre under the direction on Woody King. He attended the School of Television Arts (formerly RCA Institute) and worked at the Cable Television Network and the Public Broadcast System as a production assistant and was a member of the Society of Motion Picture and Television Engineers.
He met his life partner, Naomi Williams Moody in 1975 at the Village Vanguard, NYC on a blind date. They travelled throughout Europe where Naomi performed and Omari took on the role of her manager, personal assistant, make-up artist, bodyguard, hair dresser, interpreter, guardian and friend.
Naomi and Omari returned to Memphis due to her mother's illness. Omari immediately embraced the Memphis community and began work as a Tennessee certified foreign language medical interpreter at LeBonheur Children's Hospital. He worked for 23 years at Memphis City Schools, first at the Martin Luther King, Jr Educational and Cultural Center as Community Liasion. A man committed to youth, Omari founded "Project Dynamite" a 501c3 organization that served children living in the Cleaborn and Foote Homes community. "Project Dynamite"was recognized and honored by the City of Memphis; State of Tennessee, and United Way of Greater Memphis specifically for the programs "I Am A Dynamite Student" and "The Just Say No All Stars" at Vance Jr. High School. He was co-founder of "The Elephant Men", a mentoring program for male youths in South Memphis. Omari retired in 2012 from Memphis City Schools. He was ESL(English Second Language) Cultural Mentor at W. Herbert Brewster Elementary and Grahamwood Elementary Schools.
Omari touched the lives of many people in a positive way. Many of the students he mentored in the schools, organizations and communities he served continued to reach out to him as adults to thank him for the "tough" talk and love he gave them.
What's written here is only a snapshot of the life of Omari, there is so much more and so little space to tell it. However, remember this, Omari was an unsung hero among us. He served, unselfishly, his adopted community of Memphis with love and commitment, never seeking honor or reward. He did it to make a difference and in service to our Lord and Savior Jesus Christ.

He leaves to remember his life and love: his life partner and caregiver, Naomi Williams Moody; daughter Yovana Rankin-Bisumber (Alton) of Miramar, FL; son Jose Rankin,lll (Dursi) of Brooklyn, NY; sister Markelda Rankin Blackwood of North Carolina; sister, Manuela Rankin Green of Maryland; Naomi's children, Nathaniel Jones; Michael Moody; Dr. Natolyn Jones-Ferguson of Pembroke Pines, FL; Nedra Jones; five grandchildren; one great-granddaughter; ten nieces and nephews; great nieces and nephews and a host of relatives and friends from his beloved Panama, New York and Memphis.

Services at 3:00 p.m. Sunday, September 16 at Serenity Funeral Home, 1638 Sycamore View Road. Inurnment at Serenity Columbarium-Rotunda, 1622 Sycamore View Road, with Military Honors. Repast following at Serenity Place, 1648 Sycamore View Road. Serenity Funeral Home and Cremation Society, (901)377-3543.
Read More
Previous Events
Memorial
Serenity Funeral Home
1638 Sycamore View Road
Memphis, TN 38134
Cemetery Details
Location
Serenity Columbarium and Memorial Garden - Rotunda
1622 Sycamore View Rd.
Memphis , TN 38134