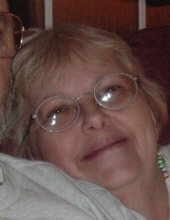 Obituary for Nancy Jo Scanzillo
Nancy Jo Scanzillo, 73, of Millington, went peacefully to be with the Lord on October 31,
2016 with her family at her side at St. Francis Hospital-Bartlett.
Nancy was born in Boonville, IN to Harold and Amy Wright on January 31, 1943. She
attended Boonville High School and graduated in 1961. She enjoyed writing, listening
to music, and spending time with her family. She was a devout Christian who loved
listening to sermons and reading her Bible. She was a member of Silver Stampers and
corresponded with pen pals all over the United States. Her beautiful smile and warm
laughter will be missed by all who knew her.
Nancy joined her parents, Harold and Amy Wright in heaven. She is survived by her
husband, Richard Scanzillo of Millington, TN and their daughter Amy Scanzillo of
Knoxville, TN; her dear sister-in-law and friend Rima Laviano and dear brother-in-law
and friend Angelo Laviano of Locust Grove, VA; and her nephew Vince Laviano and his
wife Chel Dodge of Union City, CA.