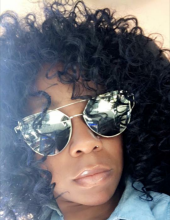 Obituary for Miya Beauchamp
Miya Beauchamp, 31, died September 10, 2018.

Miya Shine' Hamlet-Beauchamp was born August 31, 1987 to Minnie Pearl Jones (whom preceded her in death) and Edward Hamlet. She accepted Christ at an early age. Miya was a graduate of Craigmont High School. She later married Marion Beauchamp and was a faithful employee of Methodist Health Care and Christ Community.
Miya was a wonderful mother to her children, Tylan Ingram, Zarion Beauchamp (whom preceded her in death), Tyler Beauchamp and Tyger Beauchamp.
Miya also leaves to cherish her memories her husband, Marion Beauchamp; her father, Edward Hamlet; three sisters, Jasthenna Hamlet, Magnolia Hamlet, and Mimi Austin; seven nieces; six nephews (one whom preceded her in death, Quintavious Hamlet), and a host of aunts, uncles, cousins, and friends.

Serenity Funeral Home, Tel. (901)379-0861.