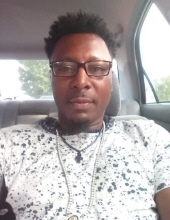 Obituary for Michael Palmer
Michael Terrance Palmer (aka) "Lil Mike: and "Mike P." was known by many people across the City of Memphis. He was born at St. Joseph Hospital in downtown, Memphis, Tennessee on November 27, 1979. He was born to his then young parents Terri R. Seymour and Michael Brown Seymour. His loving grandmother Shirley A. Palmer stepped in to help her young raise her first born grandson in Beacon Hills in Frayser. His late grandmother Peggy Brown played a very important part in his upbringing. Both grandmothers' homes were full of his loving aunts and uncles who loved him very much. Michael's life was cut short when he was tragically struck down by a hit and run driver on Wednesday, October 26, 2022.
Michael was baptized and confessed his life to Christ at Mt. Olive Cathedral C.M.E. His life's venture began at Lemoyne Garden Day Care. He attended Cummings Elementary, Caldwell, and Whitney and Westside Elementary. He later attended Raleigh Egypt Middle School, and Raleigh Egypt High School. He loved his schools, especially Raleigh Egypt High School. Michael had many interests in life. He loved to DJ and Rap. When he was on the Mic you were guaranteed to have the best time ever. He loved making people laugh because he was always joking, and playing around. (Lol) Your side wall felt like it was breaking. Mike also like to dance and he was just the life of the party. One thing is for sure, he loved his mom. He made it known by getting a tattoo on his left arm that read "Momma's Boy!!!" Michael was well loved and he will be greatly missed.
Michael had many places of employment which included The Goodwill Donation Center, 409 Lumber Company, and insulating houses.
Michael leave to mourn his passing his mother, Terri R. McCain, father Michael Seymour, and step-father Kenny McCain; Grandmother Shirley A. Palmer; his great uncle, Leotha Palmer, Jr.; his brother Markeil C. Seymour, four children M'Kylin Palmer (18), M'Kaya Palmer (16) , M'Kera Palmer (15), (Mother-Quaneshia Jefferies); Amir Palmer (2) ,(Mother-Tamera Tabb) step-son Lil Russell, Jr.; five aunts Letha Reed, Nicole Palmer Wallace (Manning), Kristi Palmer, Sharon Carpenter, Joyce Burks; three uncles Darryl Palmer, Ellery Webster, Emmanuel Wallace and many cousin brothers and cousin sisters whom he loved dearly.
"Trust in the LORD with all thine heart; and lean not unto thine own understanding; In all thy ways acknowledge him, and he shall direct thy paths." Proverbs 3:5-6.
Serenity Funeral Home, Tel. (901)379-0861.
Read More
Previous Events
Visitation
Mt. Olive Cathedral CME Church
538 Doctor M.L.K. Jr Ave
memphis, TN 38126
Service
Mt. Olive Cathedral CME Church
538 Doctor M.L.K. Jr Ave
memphis, TN 38126
Cemetery Details
Location
Elmwood Cemetery
824 S Dudley St