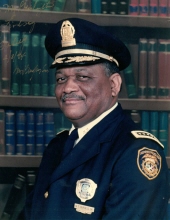 Obituary for Melvin Burgess, Sr.
Melvin T. Burgess, Sr., 80, died June 28, 2018.

Melvin Thomas Burgess, Sr. was born on May 23, 1938 in Memphis, Tennessee to Katherine Gilder Burgess and Eddie Burgess.
Melvin graduated from Booker T. Washington High School, and served in the United States Air Force. Melvin attended Grambling State University and graduated from University of Memphis State University.
On April 27, 1962, at the age of 23 Melvin and fourteen others successfully completed the Thirteenth Session of the Memphis Police Academy Basic Training. He and his fellow classmates brought the total number of Blacks in the department to twenty-seven, the highest number of Black officers in the history of the Memphis Police Department (MPD) at that time.
During his tenure with MPD, Melvin attained every rank from patrolman to his appointment as Director in 1992. As Director, it was often said that Melvin was "tough but fair".
After leaving the police department, Melvin pursued other professional endeavors including entrepreneutial adventures and opened one of the largest retailers of fresh fish in Memphis, "The Fish Market and Diner", formerly Carter's Fish Marker. Melvin held positions as Tunica, Mississippi Sheriff Department Executive Administrator, Vice president of security for the Horseshoe Casino, and alter, Reginal Vice President of Security and Risk Management at Caesar's Entertainment Incorporated. Melvin enjoyed all facets of his life and would say, "I'm living the dream".
For fort-three beautiful and happy years, Melvin was married to Johanna Lopez Sandridge. Melvin affectionately called her "Shorty". Anyone who knew Melvin knew he loved Johanna, and she felt the same. Johanna and Melvin were best friends throughout their marriage. They loved each other's company. She was the love of his life. Melvin loved to entertain and Johanna let him. They traveled extensively. Always seen at a football classic, Southern Heritage, Bayou, or a 100 Black Men Event. Melvin was charismatic, full of life, wit and charm.
Melvin had an amazing relationship with God and all of his family. He had a model releationship with his son. Many would say Melvin II and Melvin Sr were more than father and son. They were a kindred spirit personified. Countless occasions when Melvin would speak through the years, Melvin could look out and happily always see his son. Melvin never met a stranger. He was a member of Memphis Alumni Chapter of Kappa Alpha Psi Fraternity, the "Prestigious" Corner Club.
Melvin was a God-fearing man. He was faithful in attending and participating fully as an elder at Parkway Garden United Presbyterian Church until his illness prevented him in doing so.
Melvin leaves to cherish his memories; two childnre, Melvin Burgess II ( Sandra) and Pamela Nelson of Denver, CO; four granchildnre, Lindsey of New York, Laauren of Memphis, Christopher and Ricky of Denver; four sisters, June Burgess, Teresa Burgess, Vanessa Frazier and Dr. Edith Wren; one brother in law, Joe "Skip" Sandridge. A host of nieces, nephews, cousins and friends will hold precious memories of Melvin.

Serenity Funeral Home, 1638 Sycamore View Rd., Memphis, TN 38134,Tel. (901) 379-0861.
Read More
Previous Events
Visitation
Serenity Funeral Home
1638 Sycamore View Road
Memphis, TN 38134
Service
Golden Gate Cathedral
3240 James Rd
Memphis, TN 38128
Committal Service
West Tennessee State Veterans Cemetery
4000 Forest Hill Irene Road
Memphis, TN 38125
Cemetery Details
Location
West Tennessee State Veterans Cemetery
4000 Forest Hill Irene Road
Memphis, TN 38125