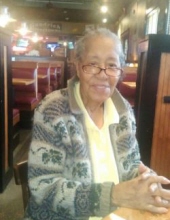 Obituary for Louise Elizabeth Coy
Mrs. Louise Elizabeth Coy was born in Boston, MA to Mr. Charles S. Cook, Sr. and Mrs. Bernice P. Cummings-Cook on January 7, 1921. She was a very strong, independent woman who spent her early years as a seamstress/tailor in the New York clothing manufacturing business and fashion industry of the late 30,s through early 70,s.

During World War II and the Korean War, while her brother Charles Cook, Sr. and her husband, Albert Coy were in the military, she became involved with The Disabled American Veterans where she served as commander of the Boston chapter. She was a member of the 12th Baptist Church. She worked with the Roman Catholic Archdiocese of the Boston school system for 11 years, and she worked with the City of Boston school system for 21 years. Additionally she volunteered with the Catholic Charities of Roxbury and Medford, Massachusetts, feeding the poor and mothers in need. She served with the American Red Cross and enjoyed serving the community as a charitable volunteer.

Recently Louise began to dislike the cold weather in Cambridge, Massachusetts and opted for the warmer Memphis climate, and lived alternately with her nephew Charles Cook, III and his wife Kay and even in her own apartment. Her grandnephew, Maurice Cook provided her with care and many of her needs. She spent many of her days at the Lewis Senior Center on North Parkway in Memphis. Most recently she has been cared for at assisted living care centers "Legacy Estates" and "Feels Like Home". Since in Memphis she joined Cross of Calvary Lutheran Church on Elvis Presley Blvd. where Russell Belisle is Pastor.

Louise leaves her loving daughter, Natalie Coy Smith-Woolley of Lowell Massachusetts; her four grandsons Albert D Coy, West Hartford Connecticut, Jackie L Smith II of Homestead Florida, James K. Smith, and Alexander E. Woolley of Lowell Massachusetts. There are six great-grandchildren mourning Louise's passing. They are Alexia Woolley, Gianna Jade Woolley, Kadin Coy, Javell Woolley, Elijah Woolley and Laila Coy. Louise Coy has lived a full life of 95 years and leaves a slew of friends and relatives throughout this country who will truly miss her.

Memorial services in Memphis will be held at 4:00 p.m., Monday, September 19, 2016, at Serenity Funeral Home at 1638 Sycamore View Road in Memphis, TN 38134, with Pastor Russell Belisle officiating.


Memorial services in Roxbury, MA will be held on Wednesday, September 28, 2016 from 11 a.m. till 12 noon with Pastor Arthur T. Gerald Junior officiating, and repass to follow at 12th Baptist Church at 160 Warren St. Roxbury, MA 02119, phone number (617) 442-7855.
Read More
Previous Events
Service
Serenity Funeral Home
1638 Sycamore View Road
Memphis, TN 38134
Memorial Service - Monday, September 19, 2016 at 4:00 p.m.