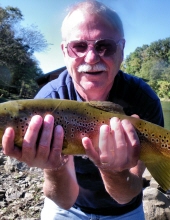 Obituary for Kevin Peters
Kevin Neil Peters was born in Perth, Australia on January 13, 1956, and died on March 6, 2022, after years of struggling with Parkinson's Disease. He is survived by his sister Nola Davies, his brother Allan Peters, and his life-long friend, Rodney "Tweetie Bird" Guerney. As well as his wife of 34 years, Melissa Peters, his children Denise Hager and Joshua Peters, and his grandchildren: Jeremiah, Wren, Jordan, Hallee, and Alex.

He came to America in 1976, as part of a world tour. Upon spending time with friends, old and new, he decided to stay in the States as he found new opportunities—college and the military. He joined the U.S. Air Force and attended Embry Riddle Aeronautical University, ultimately earning a Bachelor's degree in Aviation Engineering. There he served honorably as a flight engineer with a final rank of Staff Sergeant. until a change in federal law that altered the roles and rules for U.S. military members who were not U.S citizens. He then went to Flying Tigers, which became part of FedEx, moving his family to Memphis, TN. He lived and worked here the rest of his life.

Despite living in America longer than his time in Australia, Kevin always considered himself an Australian first. Although active in his community, he never considered seeking U.S citizenship, even when dual citizenship became available, because he felt it would lessen his connection to his homeland. Kevin was always a guy who was on the go, who always had a project. His many hobbies included gaming, aquariums, restoring cars, collectible trains, camping, hunting, model rockets, and gardening. His favorite hobby was fishing. He was a commercial fisherman for several years in Australia, and fished recreationally throughout his life; it was a passion he shared with his son and grandson. He did everything he could to support his children's interest and passions, and was invested in their education. He was also a really good "Grumps" to his grandkids. He will be missed.

Serenity Funeral Home, Tel. (901) 379-0861.
Read More
Previous Events
Memorial
Serenity Funeral Home and Cremation Society
1632 Sycamore View Road
Memphis, TN 38134