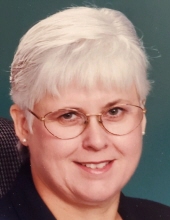 Obituary for Joyce D. Knecht
Joyce D. Knecht, 76, died March 3, 2022.

Private Memorial Services by the family at a later date.

Joyce D. Knecht, formally of Annapolis, IL, passed away March 3, 2022 in Memphis, TN after a short battle with ovarian cancer.

Joyce was born October 9, 1945 in Marshall, IL, the oldest child of William and Elva Scott.

On April 12, 1964, she married Glenn Knecht in Killeen, TX.

Joyce is survived by her husband of 57 years, Glenn, daughters Renee (Paul) Hughes, Memphis, TN, and Karena Musgrave, Lake Park, GA; four grandchildren David Hughes (Grace Boatwright), San Francisco, CA, Joan Hughes, Minneapolis, MN, Mark Hughes, Memphis, TN and Jenna Musgrave, Lake Park, GA; a sister, Jenny (Sam) Mayberry, brothers and sisters -in- law Verna Walton, Harold Knecht, Hazel Dedoming, Ross and Vicki Knecht, and Rex and Connie Knecht.

Preceding her in death are her parents and a brother, James Scott.

Memorial donations can be made to St. Jude's Children's Research Hospital - Joyce Knecht Memorial or to your local humane society.

At Joyce's request, there will be no funeral or memorial service.

Serenity Funeral Home and Cremation Society, Tel. (901)377-3543.