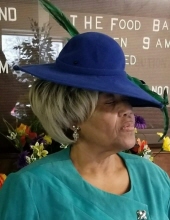 Obituary for Joyce Ann Harmon
Joyce Ann Harmon, 70, died October 5, 2022.
Joyce Ann Chisom Harmon was a devoted daughter, mother, and grandmother. She always gave her best to serve and honor her family.
Even throughout her career she strived to serve others, putting others above herself. One of her first jobs was working at Greater Community Daycare Center with Mother Ida M. Porter. She also pursued a career as a private duty nurse, home healthcare provider. Unbeknownst to her, she would one day utilize these skills to help her parents. She also took on a career in real estate. When Joyce was not working, she had an appreciation for art. Her pastime was painting. She also had an appreciation for antiques. One of her favorite shows was "The Antique RoadShow." In her latter days she enjoyed writing plays. One of them was entitled "The Final Hour."
Joyce was a faithful member of the Greater Harvest Church. When she responded to the call of God to the ministry she enrolled and graduated from the Greater Harvest Ministerial training program. She would say, "I am just a messenger, a mail person delivering God's message to the people." She was noted for being faithful to Bible Study and Sunday School.
Joyce was born February 24, 1952, in Arkansas to loving parents Earnesteen Ryan and Leonard Chisom. She transitioned from this life on October 5, 2022, at age 70. Joyce had one daughter, Leslie Joy Jones (Rondal of Markham, IL), and three beautiful grandchildren, Anna Sammone Jones, Emily Joy Jones, and Rondal Leonard Jones. She also imparted in the lives of several Godchildren, Jehan R. Ellis, Andrea, (Juricus Boyed), Neressa Hubbard, and Joi Bradly, and a host of relatives and friends.
Serenity Funeral Home, Tel. (901)379-0861.
Read More
Previous Events
Visitation
Serenity Funeral Home
1638 Sycamore View Road
Memphis, TN 38134
Visitation
Greater Harvest Church of God In Christ
3509 Boxdale St.
Memphis, TN 38118
Service
Greater Harvest Church of God In Christ
3509 Boxdale St.
Memphis, TN 38118
Cemetery Details
Location
Elmwood Cemetery
824 S Dudley St