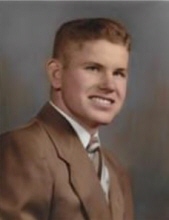 Obituary for John William Byrd
John William Byrd, age 84, of Memphis, TN, passed away Wednesday, February 23, 2022.

He is survived by his wife, Wanda; sons, John Madison and Tommy; daughters-in-law, Sabrina and Genoyce; grandchildren, Chase, Gavin, Calista, Kaley, Fallon, Camden, and Sofia; sisters, Sarah (John) Brush and Jo (Charles) Tucker; brothers, Dan (Carol), Robert (Debra), and Harold; and numerous nieces and nephews. Preceding John in death was his father, Madison Arthur Byrd; his mother, Velda Louise Bodiford Byrd; and his brother, James.

John was born in McNairy County on October 10, 1937, where he grew up working on his family's farm. He graduated from Selmer High School in 1955 and enlisted in the United States Air Force shortly thereafter. Upon joining the service, John was assigned to Russian language translation during the height of the Cold War, and he enrolled in and graduated from the Syracuse University Language School prior to serving four years in the Air Force, both at home and abroad. Following his time in the service, John would return to his family's farm, now located in the Memphis metropolitan area, to tend to their growing sod and soybean operations. Then, in 1980, John's life took a magnificent turn for the unexpected when he and his brothers founded the Bank of Bartlett. In 1983, John would capitalize on the emerging secondary mortgage market by founding Bartlett Mortgage, where he remained President until his passing. John had a lifelong love affair with the Tennessee Volunteers football and Los Angeles Dodgers baseball teams, rarely missing a game or being short on memory for a stat. His strong work ethic, remarkable penchant for numbers, an uplifting sense of humor were loved and cherished by all who knew him. John also exhibited a strong willingness to embrace and support others, and his warm heart and distinct sweetness of personality are perhaps the qualities for which his family, friends, and associates will remember him the most.

He loved fiercely and deeply, and we take comfort in knowing that John is now at peace, surrounded by the light of his Lord and Savior, Jesus Christ.

In lieu of flowers, the family requests donations to be made to the Humane Society.

Serenity Funeral Home and Cremation Society, Tel. (901) 377-3543.
Read More