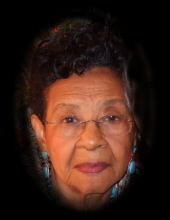 Obituary for Jennie Ruth Partee
Jennie Ruth Fitzgerald Partee, 97, died February 29, 2016.

Mrs. Jennie Ruth Fitzgerald Partee, the daughter of the late Clarence Fitzgerald, Sr., and the late Orange A.R. Fitzgerald, was born June 12, 1918 in Como, Mississippi. Her brothers William Fitzgerald (whom she affectionately called "Brother") (the late Mae Isom Davenport) and Clarence Fitzgerald, Jr., (whom she referred to as "Luke") (the late Beatrice Price) preceded her in death.

At an early age she accepted Christ and united with the Mt. Level Baptist Church, Como, Mississippi.

She was a graduate of Geeter High School (Memphis, Tennessee) and received teacher training at Rust College in Holly Springs, Mississippi. She received her Provisional Elementary License in the State of Mississippi and taught in Como from 1941 to 1942.

On June 12, 1942, she married Claude Partee. To this union only one child, Jacqueline Ruth Partee, was born 12 years later!

Jennie was a very skilled and meticulous seamstress. She made all of her daughter's clothes that were later, with much pride and appreciation, handed down to grand nieces and other relatives. She proudly displayed handmade draperies that hung with precision from her hand washed windows (Yes, I said hand washed by her!) of her homes. Jennie was a hard worker who cleaned and cooked with pride, welcoming family and friends and offering a place at the table without hesitation. She was loquacious with a sweet personality, using it and her common sense to show respect and love to all she knew. Her greatest love though was her daughter, Jackie. Yet she was "Mama" to many more, especially Russell and Joe Ann, and her "girls", Bernadine and Geraldine, who were always there when she needed them.

Jennie enjoyed years as an active member of her local American Legion Auxiliary. Dinners were cooked and served from her small kitchen on St. Paul Ave. to help raise funds for her chapter. She has been a continuous paying member since 1957.

Mourning in our loss but rejoicing in Jennie Ruth's loving, purposeful life are her daughter, Jackie; nieces, nephews, cousins, friends, and great neighbors (especially Velma Lamar and Elbert Grimes).


Visitation to be held from 11:00 AM - 12:00 Noon on Saturday, March 5, 2016 at Serenity Funeral Home.

Funeral Service will be conducted at 12:00 Noon on Saturday, March 5, 2016 at Serenity Funeral Home.

Committal Service will be held at 2:00 PM on Tuesday, March 8, 2016 at West Tennessee Veterans Cemetery.

Serenity Funeral Home, 1638 Sycamore View Road, Memphis, TN 38134 Tel. (901) 379-0861.
Read More
Previous Events
Visitation
Serenity Funeral Home
1638 Sycamore View Road
Memphis, TN 38134
Service
Serenity Funeral Home
1638 Sycamore View Road
Memphis, TN 38134
Graveside
West Tennessee State Veterans Cemetery
4000 Forest Hill Irene Road
Memphis, TN 38125
Cemetery Details
Location
West Tennessee State Veterans Cemetery
4000 Forest Hill Irene Road
Memphis, TN 38125