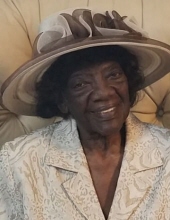 Obituary for Elizabeth Tomlinson
Ezalia Elizabeth Tomlinson, daughter of the late Willie Albert and Clara Allen Burrows, was born July 17, 1933 – the oldest of two daughters. She was blessed with loving parents who provided a peaceful, God-fearing home environment, and established within her a good Christian upbringing and a love for God and His people. She accepted Christ at an early age and was baptized at the Mt. Pisgah Baptist Church in Mt. Pisgah, Tennessee.
Elizabeth was united in marriage in 1961 to her loving husband, Willie Calvin Tomlinson; and they were blessed by God with five children to raise and nurture in the ways of the Lord.
Elizabeth took great pride in her life and home. Not only did she nurture her own children, but she shared that same love and affection with her nieces and nephews, and grandchildren – assuring them that family was always first and foremost in her life, and that she always had their back. She was a caretaker to all the kids in the Arlington Sub community – instilling values and providing guidance to help them along the way. She was an avid Bible reader and could give you a Word from the Lord to match any situation, offering peace and hope whenever needed.
Elizabeth had a lot of talents, among them was sewing; and whether "making it" or "fixing it" – it was never too much for her family. She was ever so proud of her garden, full of fruits and vegetables, which she cooked and shared with both family and friends. Her lovely flower bed was unmatched – all because she knew the "secret" to help them blossom and stand tall was to not only feed the flowers, but to speak life into them! Not only did she speak, but she could surely sing with a joyful, angelic voice that would burst into song at any given moment. She always said, "If there is a song on your heart…it is best to sing it!"
Surely, we will never forget this beautiful and loving Mother and Grandmother. She was a shining light in our lives, and we will always hold her dear to our hearts; but when God called her home saying, "Servant, well done" – she answered His call.
ELIZABETH was preceded in death by her mother and father, Willie and Clara Burrows; her husband, Willie Calvin Tomlinson; her sister, Pearlie Burrows Owens, a stepson Robert Tomlinson, and a niece Vanessa Burrows Stennis.
Left to cherish a well-spent life are her five (5) children: Barbara Tomlinson Dowell, Jean Tomlinson Mitchell (Keith); James Tomlinson (Gwen); Alexander Tomlinson (Mayra); and Georgia Tomlinson Townsel; three (3) stepchildren: Alice Westbrook, Michael Tomlinson, Willie Tomlinson. eleven (11) grandchildren: Keith Mitchell, Jr., Surkeita Townsel, Rory Mitchell, David Townsel, Jr., Jasmine Tomlinson, Cedric Dowell, Jr., Keenan Tomlinson, Attalah Tomlinson, Elaine Burns, Varnell Burns, and Alexandria Tomlinson; five (5) God-children: Marlene Alexander, Decorien Coleman, Margaret Bingham, Timothy Bingham, and J. R. Lewis; seven (7) nieces and nephews: Clara Owens, Curley Owens, Veretta Burrows, Marilyn Conway, Gloria Freeman, William Burrows, and Alonzo Burrows, Sr.; along with many great-grandchildren, great-grand-nieces/nephews; and a host of special family and friends.
Live Stream Link: https://youtu.be/HxRr4bFcN2g
Serenity Funeral Home, Tel. (901)379-0861.
Read More
Previous Events
Visitation
Serenity Funeral Home
1638 Sycamore View Road
Memphis, TN 38134
Service
Serenity Funeral Home
1638 Sycamore View Road
Memphis, TN 38134
Cemetery Details
Location
West Tennessee State Veterans Cemetery
4000 Forest Hill Irene Road
Memphis, TN 38125