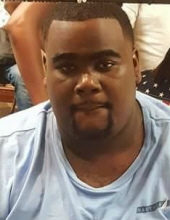 Obituary for Eddie James Turner, Jr.
Eddie James Turner Jr, (Lil/ Big Eddie) at the age of 24 passed away at his home in Memphis, TN, January 14, 2017. From his entrance into this world March 27, 1992 until his exit January 14, 2017, Eddie was a source of Joy, love, and life to all he met.
Eddie was born in Memphis, TN to his loving parents Eddie and Branda Turner. He was a cherished little brother to his older sisters LaKendra and LaBeral (BeBe) and an outstanding older brother to his baby sister Shirockie. As a child, Eddie was always smiling and so outgoing yet focus. He was so intelligent and mature for his age that it left everyone he met in disbelief. When he was 6, his parents brought got him a bike, for his birthday. Eddie calmly told his mother that he was not ready for it yet, that he would be ready when he turned 7. On his 7th birthday he told his mother "I'm ready to ride my bike now, mom!" That was Eddie, when he set a goal, he always strived to accomplish it.
Eddie love sports and found joy most of all in football. His favorite teams has always been Alabama Rolltide (college) and the Green Bay Packers (NFL). Eddie was knowledgeable of every aspect of football. He always aspired to be a coach when he was a child. He started playing PeeWee football and continued to play his favorite sport well into college.
Eddie attended Willow Oaks elementary where in the 4th grade he joins the chess club (mind you he had never played chess, ever) and left all his teachers speechless when he took home a trophy. While at Colonial Middle School, Eddie joined the football and developed a passion for history, science, and math excelling in them all. Eddie later attended Wooddale High School where he was the football team captain for three years, All- District and All-Metro in 2009- 2010 school year, member of various club and volunteer organization, outstanding student whom the teachers loved to see and beloved classmate. While apart of the Wooddale football team, Eddie was a dynamic force not only on the field but off the field as well. He could often be found next to the coaches calling plays and even developing them. Upon his graduation from Wooddale High in 2010, Eddie was a prospect for many schools but decided to attend Morgan State University on an academic and athletic scholarship. Eddie receive a Degree in History from Southwest and graduated Cum Laude in 2015. He then enrolled in Tennessee College of Applied Technology Aviation Mechanic Program. While at Tennessee Tech, he excelled academically, and strived to be the best in his field. He would often be allowed to teach his class in order to make sure his fellow classmates would get a better understanding of course work.
Eddie was the apple of his Mother's eye and dear friend to his father. To his immediate and distant family he brought so much joy and laughter. Never one to complain Eddies always look at the bigger picture.
Eddie is survived by his parents Eddie and Branda Turner; his sisters LaKendra, LaBeral, and Shirockie and his nephew Braxton Claude-James Holt whom he loved dearly and considered his own. He also leaves behind great-Aunts Florence Spivey, Shirley Roland, Katherine Wilson, Julia Mae Williams, Bobbie Johnson great-Uncles Talmas Hoskins (Bee) and Walter Hoskins (Jo-Ann); Aunts Earnestine Knowles-Johnson, Ella Knowles, Diana Knowles, Shirockie Biggins (A very special Aunt whom love Eddie though he was her very own Son. Eddie loved her as though she was his mother.), Mary Biggins, Dorothy Mae, and Annie Turner; Uncles Henry Knowles Jr.(Louise), Johnnie Biggins, Paul Rogers Biggins (Lenette), Charlie Biggins, James Turner, and Alphonso Turner. He also leaves behind a host of cousins and friends who loved him dearly.


Previous Events
Visitation
Serenity Funeral Home
1638 Sycamore View Road
Memphis, TN 38134
Service
Serenity Funeral Home
1638 Sycamore View Road
Memphis, TN 38134