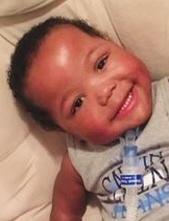 Obituary for Dallas Scott
Dallas Scott, age 1, died December 13, 2018.

Hi my name is Dallas Cash 'Mere Scott. I was born on February 28, 2017, in Memphis, TN at 25 weeks gestation. My early arrival caused many health complications and challenges that I would have to overcome. Because of these challenges, I had to live in this amazing place called Le Bonheur Children's Hospital. Le Bonheur is the best children's hospital in the nation. It has many expert doctors, nurses, respiratory therapist and other staff members that cared for me during my stay. I had to remain in the hospital for over a year with this great team of health care professionals. They soon became friends, people who truly loved me and people whom I loved back. All my new friends, allowed me to use machines and equipment with bells, whistles, alarms, air and other various sounds that helped me to thrive and progress beyond everyone's expectations. Everything doctors said I couldn't or wouldn't do, I accomplished, even though it required great strength and effort. My being a true fighter, coupled with the love and support of my family and Le Bonheur's Healthcare Team helped me to heal enough to go home May of 2018. My mom, La Miracle and my sister, Brooklyn were my own personal cheerleaders. They knew me for my abilities, not my "disabilities!" They offered me love and support all the time. They stood behind me, championed me on, believed in me and cheered for me! Their cheers inspired hope, excitement, eagerness, and determination in me and all who worked with me! I was developmental delayed, not disabled as my environment and people would lead one to believe. Therefore, at home, I began to crawl, clap, play games, give high fives, eat by mouth and give kisses. I was very independent and challenged my home nurses, causing them to stretch in their skill sets. I loved playing with my musical toys. I used my hands to make them work, but loved kicking them with my feet more. My sister, Brooklyn would yell loud sounds from her room and I would shout the same sounds back to her. Yes, I was a copy cat! I had started to rock my bouncer so hard, that it would turn around. As soon as anyone unstrapped my bouncer belt, I would slide out to the floor. I was born with what is labeled as "disabilities", that is true, but all that meant was that I had to take a slightly different path than other little children. One would have to have an open mind and the ability to look beyond what my physical "disabilities" appeared to be, and see that my inner ability was to make this world a better place. No obstacle was too hard for a true warrior like me to overcome. In nearing two years on this earth, I proved that my developmental delay would not become a winning disability! Overall, I hope I was an angel on earth that brought love and joy to the lives of everyone that knew me and those who have heard of me. Find comfort in knowing, I dreamed of heaven the other night, and the pearly gates swung open wide. An angel with a halo bright ushered me inside, thus ending my need to fight. May all your memories of me include my precious laugh and bright smile?

Serenity Funeral Home, Tel. 901-379-0861.
Read More
Previous Events
Service
Serenity Funeral Home
1638 Sycamore View Road
Memphis, TN 38134