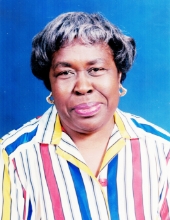 Obituary for Barbara B. McFarland
Barbara B. McFarland, 90, died March 31, 2023.
Barbara Bishop McFarland's faith in Christ became sight as she met her Lord and Savior Jesus Christ face-to-face on March 31, 2023. Barbara, the oldest child of Hale and Robbie Bishop was born in Como, Mississippi (Panola County) on August 3,10, 1932. When Barbara was still a young girl, the family moved to Capleville, Tennessee where she attended Capleville School. The family eventually moved to Memphis, Tennessee, where Barbara would spend her teenage years, grow up and go to high school. She was very proud to be a 1950 graduate of Hamilton High School. She later graduated from Mississippi Industrial College with a B.S. in Education. Subsequently, she worked as a librarian at Klondike Elementary and Riverview Elementary schools in Memphis, Tennessee.
She would meet the love of her life, Alfred Lewonder McFarland of Osceola, Arkansas as a result of a matchmaking effort of her cousin Tisha Gross. Barbara and Alfred were married in Memphis on June 15,1955. They were married for 43 years. Alfred and Barbara lived next to her mother and spent the next twenty years building their life and raising their two children. The family moved to Osceola, Arkansas in 1978. Barbara spent the next sixteen years as a Special Education teacher at Luxora Elementary School and Rivercrest High School until her retirement in 1994.
Barbara expressed her faith in Christ as her Savior at an early age. She was a longtime member of Macedonia M.B.C. (Perry Road) in Memphis, Tennessee. At Macedonia M.B.C. she was a member of the Mother Board and Choir. When the family moved to Osceola, Arkansas, she attended New Mt. Pleasant Baptist Church. Barbara was also a past Worthy Matron of the Golden Gate Houston Star #365 Chapter of the Order of the Eastern Star in Osceola.
After Barbara's retirement she assumed several new interests. She became an avid reader of newspapers and magazines. Barbara loved going to thrift stores and shop for hours. Barbara loved her flowers, birds and her cats. She also loved all family activities and attended most family reunions (Rogers-Bobo Reunion, Hill-McFarland Reunion and Bishop-Nolen Reunion) until her health began to fail.
Loved ones that cleared the path for her peaceful transition were her parents, Hale and Robbie Bishop, her husband Alfred McFarland and her brother Havord C. Bishop of Atlanta, Georgia. Loved ones that will miss her until they meet again are her two children, Felicia Epps (Jarvis) and Reoungeneria McFarland (Wynella); her grandchildren, Mikiah, Kaydee, Aubrey, Karla and Rickey; her nieces/nephews, Robbie, Matthew, Onnie, Justin and Onnie; and her lifelong friends, Qadhosh Ajda of Sioux Falls, South Dakota and Ruth Dunlap of Memphis, Tennessee; and many relatives and friends.
Barbara was truly one of a kind in so many ways and will be so deeply missed by all who knew her. She lived a long and wonderful life, helped others every chance she had, and always loved her family above all else.
Serenity Funeral Home, Tel. (901)379-0861.
Read More
Previous Events
Visitation
Serenity Funeral Home
1638 Sycamore View Road
Memphis, TN 38134
Service
Macedonia MB Church
2093 Perry Rd.
Memphis, TN 38106
Cemetery Details
Location
Memorial Park Cemetery
5668 Poplar Ave.
Memphis, TN 38119