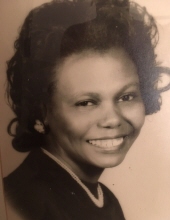 Obituary for Annie Conner
Annie Conner, 93, died January 27, 2019.

Our dearly beloved, Annie Thompson Conner, quietly took leave of this transitory existence on the Lord's Day, Suntlay, January 27, 2019 and passed into eternity at her home surrounded by her family at 11:45 am in the home where she had resided for over 80 years.

She was born in the Fredonia Community of Stanton Tennessee on November 25, 1925 to Mr. & Mrs. Ocie and Ola Adams Thompson, the 3rd youngest of at least 14 children. Her parents and siblings preceded her in death. Often she told her family the story about her not being named and not having her birth promptly recorded because the 5 children that preceded her all died in infancy. We now know that the Lord ordained her life to be purpose filled because with the exception of the past 3 months, she lived a fruitful, productive life of loving service for 93 years.

Annie Conner received her early scholarlastic and religious education at Fredonia School and Church in Stanton. Due to the death of her parents, Annie was adopted and cared for by an aunt, her namesake, Annie Currie in Memphis, TN. She continued her education inMemphis and graduated from Hamilton High School. She was a member of East Trigg Baptist Church and developed her spiritual growth and service as a greeter/usher there for more than 60 years.

Annie's bright smile and friendly persona made visitors and members, alike feel welcomed as they entered the House of the Lord.
Dutiful, diligent, loyal and always loving describes Annie Conner's attention to the task at hand. For more than 50 years, Annie was employed by the Boyle Family of Memphis, who like her own family benefitted from her labors oflove. The Conner family came to know the Boyles through Annie, for she often spoke of the Boyle family members with loving respect; and they, in tum, felt the same toward her, witnessed through their visits, calls and support until the Lord called her home.

Annie Conner never met a stranger. She was a welcoming figure in her neighborhood. Hers was the home where you could always find a hot meal; get a piece of homemade cake; follow her to the sewing room for a quick seam, fitting or alteration job; borrow your cousin's dress; catch up on the neighborhood happenings, listen closely as she told you how to make your plants thrive just like hers; used to meet or congregate as the drop off point for1children, packages or whatever, because - more likely sooner than later - you would find yourself back there for another dose of the love so freely offered. For many years her lawn was used for the annual neighborhood "Night Out" celebration, where neighbors gathered to have fun and promote unity and stability in the neighborhood.

A breast cancer survivor of 20 years, Annie was an inspiration to her Carin' and Sharin' Family. Until her health failed she dutifully attended meetings, where she share.Cil her survivor story and willingly participated in their events and activities.
Annie was preceded in death by her child Ossie Thompson and leaves to cherish her memory: her children, Richard Conner, Jr (Senetta) and Andrew Conner; her grandchildren; Richard Conner, III, Cher Conner and Jarvis Thompson; greatgrandchildren; Kingsley Conner; (caregiver), Travis Conner, Alyssa Conner, Richard Conner, IV along with a host of nieces, nephews, cousins and friends who will never forget her loving spirit, dedication and faithfulness.


Serenity Funeral Home, Tel. (901) 379-0861.
Read More
Previous Events
Visitation
East Trigg Baptist Church
1315 S Bellevue Blvd
Memphis, tn 38106
Service
East Trigg Baptist Church
1315 S Bellevue Blvd
Memphis, tn 38106
Cemetery Details
Location
Elmwood Cemetery
824 S. Dudley St.
Memphis, TN 38104