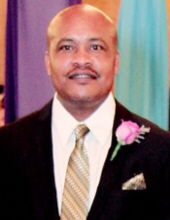 Obituary for Andre' Partee
Andre' Partee was born on February 2, 1970 to Joyce Newbern and Earnest Partee in Memphis, Tennessee.
He graduated from East High School in 1988. He received his Bachelors of Science Degree in Computer Information Systems from DeVry University in 1995.
Andre', affectionately called Baldy from the time of his birth by his loving family, was kind, warm-hearted, easy-going, and loving. He had a warm, inviting smile for all he met.
Baldy was the father to five children Magretta Partee, Andre D. Partee, Nycholas A. Partee, K'Lynn Partee, and London A. Partee.
Mourning his passing but keeping his memory alive are his four brothers, Shon Newbern of Columbus, Ohio, Darrin Partee (Christine)of Memphis, Tennessee, Donnie Cain of Memphis, Tennessee, Terrance (Kesha) of Memphis, Tennessee. He leaves four sisters: Jocelyn Newbern of Columbus, Ohio, Stephanie Partee of Memphis, Tennessee, Sharon McGee (Anthony) of Detroit, Michigan, and Kenya Stutts (Manuel) Waukegan, Illinois.
Andre' was preceded in death by his father Earnest Partee and his brother Travis Williams.
He leaves two young grandchildren, Madison Partee and Richard Partee, both of Memphis, Tennessee.
Andre' leaves a host of aunts, uncles, cousins, and friends to mourn his passing and cherish his memory.


Visitation, will be held on Wednesday, July 27, 2016 11:00 a.m. - 1:00 p.m. and Funeral immediately following at 1:00 p.m. all from Serenity Funeral Home 1638 Sycamore View Rd. Memphis, TN 38134. (901) 379-0861.


Previous Events
Visitation
Serenity Funeral Home
1638 Sycamore View Road
Memphis, TN 38134
Service
Serenity Funeral Home
1638 Sycamore View Road
Memphis, TN 38134