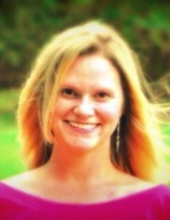 Obituary for Amy Faye Doza
Amy Faye Doza, age 47, died February 26, 2022.

Private services.

Amy Faye Doza came into this world on August 26, 1974, at Baptist hospital in Little Rock, Arkansas. She was the third girl to Wayne Joseph Doza and Rita Faye Doza. This new little one was a sweet surprise to Wayne and Rita who brought love, laughter and spirit to them both.
Amy was the third "Doza girl" after her middle sister, Jenny, and her oldest sister, Juli, both of whom adore, protect and love "My Amy" and "Aim" to this day.
She attended Saint Patrick Elementary School in North Little Rock, Arkansas, from first through eighth grades (1980-1988). Later, she followed in the footsteps of Juli and Jenny and went on to Mount Saint Mary Academy, an all-girls' Catholic School in Little Rock, one of the oldest, private, Catholic educational institutions in the State of Arkansas. Amy was so proud to have her older sister, whom she looked up to, Jenny, there as a senior as she was a freshman. Several times Amy remarked over the years how her education at Mount Saint Mary helped to mold her into the woman she became; she was immensely proud to be an alumna and member of the Class of 1992 (1988-1992).
While at Mount Saint Mary, Amy was an active member of many clubs, groups, and organizations. Just a few of the many were year book staff, Peace Links, Peer Facilitator, Youth-to-Youth, and Friends Helping Friends. It should come to no surprise to those who knew Amy that many of these clubs centered on bringing out the best in oneself, wanting to see peace in the world, and helping others. Those were aspects of her humanity she continually worked to perfect even throughout her adulthood.
The high school activity that Amy cherished most was her volunteer experience in Las Milpas, TX, working with the children of immigrant workers at Project Arise. Her time there started out as her required 30 service hours to graduate high school. But, once there, it became so much more to her. Amy would return to Las Milpas to help with Project Arise for several more summers after that and on into college. It was there that Amy began to attain her mastery of the Spanish language, understand the role that immigrants play in our national identity, and respect the beauty of humanity across all cultures. This part of her life left a mark on how Amy began and continued to view the world- as one group of souls that has many more commonalities than differences.
After completing her education at Mount Saint Mary, Amy attended Drury University in Springfield, MO, for two years with a major in International Studies (1992-1994). She then transferred to the University of Arkansas at Little Rock to finish her Bachelor's degree in both International Studies and Spanish in 1996 (1994-1996). Next, Amy attained her Masters Degree in Public Administration, also from the University (1998). All during her college years, Amy had the goal to effect change in some way and on some level on policy and practices that had an impact on the health, humanity and/or well-being of others.
After graduation, her first professional position was as an administrator with Arkansans for Drug Free Youth. This was one of those full-circle moments as it was a return to an organization with which she had worked as a teen-Friends Helping Friends. Amy's time at Arkansans for Drug Free Youth prepared her for her next step which was to the Arkansas Department of Health where she was to work on health initiatives centered on reaching out to Hispanic communities in Arkansas.
Amy's next professional endeavor, and most prolific was as the owner/editor of the east Arkansas/west Tennessee branch of the Natural Awakenings publication, a health and wellness magazine. That career change eventually led to her move to Memphis, TN, after having lived in Arkansas up to that point. While with Natural Awakenings Amy's love of photography, all things nature, and healthy living came to the forefront. This was the first place were all of the things that became her passions began to coincide.
Amy would go on to reside in Memphis for the following ten plus years. While she was building her Natural Awakenings franchise, she was widening her circle of business associates, friends, and acquaintances who later became friends. Amy became very involved in the natural/healthy living movement in Memphis, including environmental protection issues, natural health care, and organic practices. From her food choices to her cleaning supplies - Amy wanted to be a responsible care taker of the earth and others - while demonstrating to people how to do the same.
During this time, life took a turn that had Amy becoming a primary caretaker for her mother, Rita. Though Rita did leave us in 2017, the years that Amy had with her mom were some that Amy came to cherish.
Amy brought joy to the world with her infectious laughter, unlimited caring and loving spirt towards all. She loved all things sparkly, laughter, photography, gardening, all things natural, and flowers. And if she could have, she would have cared for all the dogs in the world.
Amy's mark on this world was short, powerful, and lasting to those who had the privilege to know her. The list of those she touched and made to feel special and seen is varied and precious.
Amy passed away peacefully on February 26, 2022, at Baptist Memorial Hospital in Memphis, TN.
She leaves behind her two adoring sisters who would do anything in the world for her, Juli (Doza) Carlson and Jenny Doza, and her sister-in- law, Jana Jacobson (Jenny). She also leaves her nephew, Joey Carlson, niece, Stephanie Carlson, great-niece, Madison Wyles and great-nephew, Ryan Wyles (children of Stephanie). Finally, Amy leaves behind two people deeply dear to her, Joy (Lowe) Matlock and Alfonso Rodriguez.
There will be a Celebration of Life, March 20, 2022. Location and other details to follow.

Serenity Funeral Home, Tel. (901) 379-0861.
Read More