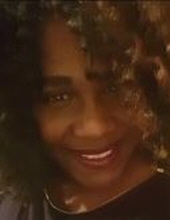 Obituary for Akisha L. Boddie
Akisha L. Boddie, 38, died September 7, 2016.

Akisha L Boddie was born on June 14, 1978 to John and Patricia Sanford in Memphis, TN. She would be the first of four children in the Sanford crew. Akisha was always the "I'll try anything once" child and leaves many memories of laughter, tears, skinned knees, and an old-fashioned southern whoopin!

Akisha graduated high school in Little Rock, AK in 1996 and began her career in the United States Army shortly thereafter. Akisha served her country in Virginia, Washington State, and The District of Columbia. Upon completing two years of service, Akisha gave birth to her three boys, Sean Jeremiah in 1999, Kevon Xavier in 2001, and Jerius Malachi in 2003. Akisha was always fiercely passionate about her children, evidenced throughout her endless photographic memories of time shared with her growing family. Akisha never knew a movie she didn't want to collect and spent much time enjoying a great movie and snuggle time with her crew. In 2009 magic happened and Akisha married an amazing man and her best friend Antione Boddie. They continued to grow their blended family through adding his children Daysha and Joshua to the newly formed #BoddieBunch. Their bunch found completion with the addition of Pierce Robert in 2010 and Avery L'asha in 2014.

Creativity and helping others was her passion and evident in everything that she set her mind to do. Akisha was a proud helper of people whether through her work as a financial counselor to help those accomplish their dreams of financial stability, or her work with It Works helping those accomplish dreams of health and joy. Akisha was blessed to enjoy her love with Antoine as they traveled together on occasion and shared special memories working side by side helping others through ministry. Akisha's boys had her heart and she made well known the pride she held for them all. She was always working on a creative project and thoroughly enjoyed having her #AdventureswithAvery along the way. Her pose and generosity was delight on this Earth and she will be celebrated through the many lives she touched along her way back to Heaven.
Akisha was preceded in death by her Grandmother Ora Lee, Grandfather William Johnson, Uncle William Johnson Jr, Aunt Debra White, Uncle Jessie Earl, Uncle Clyde Merriweather, Aunt Mary Ann Johnson, Cousin Candice Johnson, and Nephew Gavin Sanford.
Akisha leaves to cherish memories and continue her love, her husband Antoine Boddie, sons Sean Jeremiah, Kevon Xavier, Jerius Malachi, Pierce Robert, daughter Avery L'asha; parents John and Patricia Sanford, sister Erica (Eric) Ogletree, brother John Sanford Jr, sister Claretha Sanford, one niece, two nephews and a host of family and friends.


Cemetery Details
Location
Memorial Park Southwoods
5484 Hacks Cross Road
Memphis, TN 38125